The choice of a vacuum cleaning solution for your production process is difficult to assess independently. In making this assessment, you need to consider the operation itself that the equipment has to perform, the frequency of use and the regulations to which it must be subject and the morphological and granulometric characteristics of the material to which it must be subject be vacuumed.
One of the first considerations when choosing the right product is whether the dust to be vacuumed once released is volatile or if it settles on surfaces. This translates into the need for a solution that requires greater airflow or greater suction force (waterlift).
The waterlift, expressed in mmH₂O, measures the suction force generated by the suction unit.
This value is closely linked to the suction diameter and reduces proportionally as the pipe used increases.
The airflow rate, expressed as m³/h, measures the amount of air that enters the vacuum cleaner in one hour. A higher airflow rate allows more material to be vacuumed.
How can I choose the right product for my application?
How do I know if I need a vacuum cleaner with a high airflow or one with a higher waterlif?
The answer depends on the type of application.
If we have to vacuum light and small material, it is preferable to use a product with high airflow and a lower waterlift force. In these situations, a dust collector will be the ideal solution because it is able to effectively remove the material produced. Dust collectors, equipped with filters with a large filtering surface area, are the ideal solution for capturing large quantities of dust, volatile residues, or shavings removed during machining or production processes (metal, PVC, or wood shavings, for example), thanks to powerful electric fans capable of generating high levels of airflow.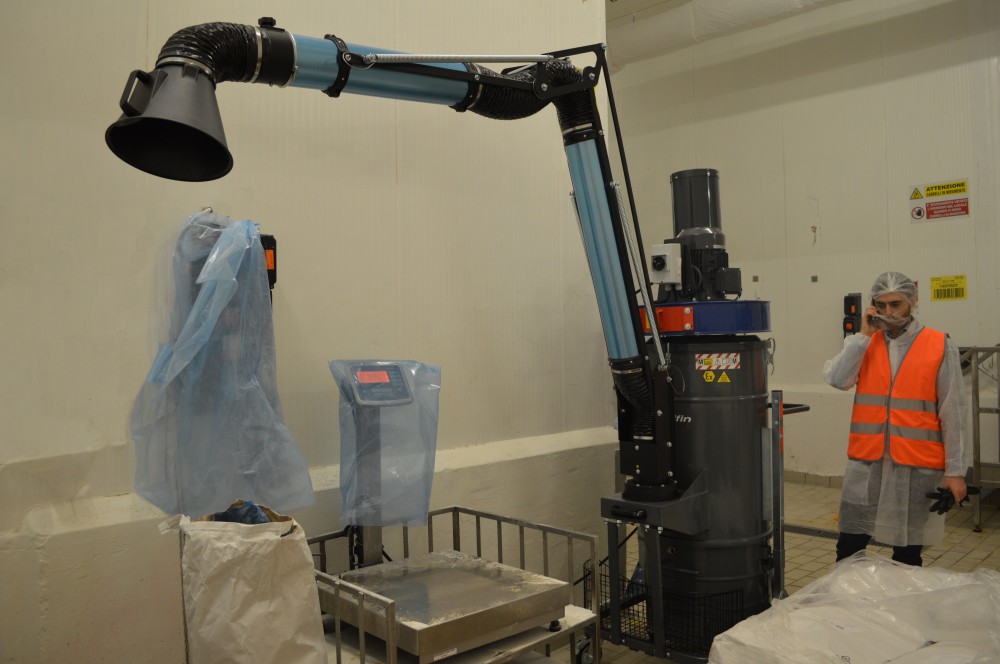 For other cleaning operations or the removal of residues from process machinery (solids, liquids, oil, bulk waste) requiring greater suction power, the choice will inevitably fall on industrial vacuum cleaners, which, thanks to the various motorisations available, offer very varied performance to suit all types of dust, solid and/or liquid applications. The main types are single-phase motor, brushless, side channel turbines and lobe pumps.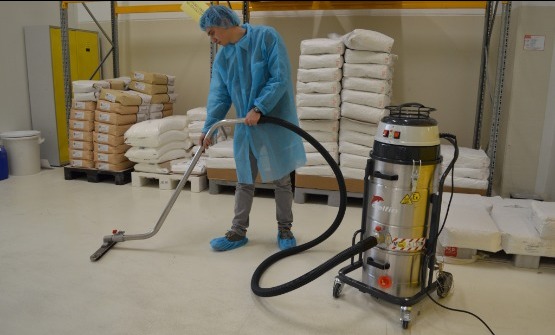 Vacuum cleaners operate on the principle of high levels of waterlift, which enable them to suck in dust or heavy materials that settle on surfaces. Dust collectors, on the other hand, are based on the principle of high air flow and low waterlift, which allows dispersed volatile dust to be captured, but are less effective at collecting heavier particles.
Can I use my dust collector to vacuum dust from the ground?
Is my vacuum cleaner able to capture suspended dust?
As we have seen there are big differences between the two systems, so the answer to these questions is no.
For the maintenance and cleaning of a production department where dust is removed from floors and equipment, an industrial vacuum cleaner is the perfect solution. Dust collectors are designed to capture suspended dust created during weighing and pouring operations, such as emptying a bag of flour. In a nutshell, if the material to be collected is deposited on a surface, a vacuum cleaner is needed; if it floats in the air, a dust collector is required.
Thanks to 30 years of experience in the world of industrial vacuum, Delfin helps manufacturing companies choose the best solution for their needs.